RMK Marine, one of the leading companies of the Turkish shipbuilding industry, whose legal processes we carry out as Manyas Law Firm, is realising a new project focusing on green energy. RMK Marine won the tender for a sailing Ro-Ro ship that will be powered by 90 per cent wind energy. In this context, RMK Marine has signed a contract with the French company Neoline Armateurs for the ship, which will be one of the first examples in its segment in the world.
French start-up Neoline Armateur reports it has completed the round of investor funding necessary for the construction of the first Neoliner, a wind-powered Ro-Ro the company plans to introduce operating trans-Atlantic voyages. Corsica Ferries, which calls itself the tenth-largest ferry company in terms of passenger capacity, joined in the latest investor round taking a stake in the start-up company.
Neoline, which has founded in 2015 to develop the concept for a wind-powered Ro-Ro, reported that it made important advancements in the design of the vessel in mid-2022 when it selected the solid sail rig developed by Chantiers de l'Atlantique for its vessel. The sail rig is self-supporting and automatically controlled. The rig itself is unique in that it can be rotated a full 360 degrees and tilted up to 70 degrees to reduce the vessel's air draft for bridges and other obstacles. The French shipbuilder reported in December 2022 that it had completed manufacturing its first carbon-fiber mast, which stands approximately 216 feet and weighs 20 tons.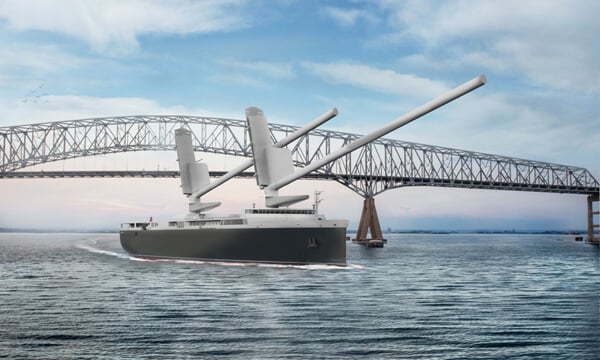 The design for the first Neoliner Ro-Ro is for a vessel measuring 446 feet in length. It will feature two masts standing nearly 250 feet each for a total of 3,000 square meters of rigid sail. The vessel is projected to have a commercial speed of 11 knots. The first transport line planned for the operation would link Saint-Nazaire, France to the American East Coast (Halifax/Baltimore), via St-Pierre and Miquelon.
The company calls the Neoliner a "new generation Ro-Ro," noting that combines a capability for light freight and oversized packages of up to just over 30 feet in height. The cargo capacity will be 1,200 linear meters, 400 cars, or 265 containers, representing up to 5,000 tons of goods. Neoline reports it has already received firm commitments from shippers such as Renault Group, Groupe Beneteau, Manitou Group, Clarins, Hennessy, Longchamp, and Michelin.
"We are very happy to be able to count on the support of Corsica Ferries, which has completed the round of investors necessary for the construction of the first Neoliner vessel, and we thank Pierre Mattei and Corsica Ferries for their trust and their commitment to reducing the impact of maritime transport. This investment by a recognized shipowner illustrates the very strong interest developed by sailing propulsion, the potential of which will be demonstrated with this first vessel," said Jean Zanuttini, president of Neoline Développement.
Corsica, which operates a fleet of 14 ferries, notes that this is the latest in a series of steps taken by the company as it moves toward net-zero operations. They are also a partner in a project for the development of green hydrogen which would be used to supply fuel cells at the port of Brégaillon in southern France near Toulon. The electric power will be connected to ships to provide shore power.
Source : https://maritime-executive.com/article/corsica-ferries-invests-in-construction-of-neoline-wind-powered-ro-ro